Health Effects of Fluoride
Current fluoride intake among western populations with mass fluoridation programs has reached historically unprecedented levels. While the health impact of these exposures remains poorly understood, research shows that comparable doses cause serious health conditions in areas of the world with widespread fluoride poisoning. Certain individuals, including infants, diabetics, kidney patients, and those with nutrient deficiencies, are at particular risk.
FLUORIDE & HEALTH
Information above is provided by FluorideAlert.org
Professionals Statement to End Water Fluoridation
PROFFESSIONALS STATEMENT
FAN's Professionals Statement to End Water Fluoridation has been signed by over 4,000 medical, dental, scientific, and environmental professionals.
UPDATE: 4,503 Signers by-degree as of August 13, 2013
Please visit this page to read who has signed so far: http://www.fluoridealert.org/researchers/professionals-statement/
The Project: 'Fluoride in the Water' [Broadcast 15 Aug 2012]
FLUORIDE TRUTH hits the TV in AUSTRALIA
TV NEWS show exposes Fluoride for what it is - poison!
Violent behaviour & silicofluorides linked...
http://dianabuckland.webs.com/fluorideaggression.htm
Report from FLUORIDE RESEARCH on WATER FLUORIDATION & CRIME in the United States of America
If water fluoridation were ended, it might take a generation for the effects to recede.
If it continues to expand, the "signal" identified in this study may get lost in the "noise" of ENDEMIC VIOLENCE.
http://www.fluorideresearch.org/381/files/38111-22.pdf
FLUORIDE TRUTH hits the TV in AUSTRALIA

Dr. Vyvyan Howard on Fluoride in Drinking Water
Dr. Vyvyan Howard on Fluoride in Drinking Water and the effect on babies, kidney function and thyroid.

Kangaroos poisoned by fluoride
- By Candice Wyatt - Updated Tue Feb 23, 2010 3:09pm AEDT
The Environment Protection Authority (EPA) says fluoride from Alcoa's aluminium smelter at Portland is making kangaroos sick.
The EPA's Bruce Dawson says the fluoride is being absorbed by the nearby vegetation which is then being eaten by the kangaroos.
He says the fluoride poisons the kangaroos and makes lesions grow on their bones, which renders them lame.
"Once kangaroos have restricted movement [it] has a significant impact on their welfare. So this is something that needs to be managed and avoided."
He says there is not a lot of information around about the impact of fluoride on kangaroos.
The problem is more common in cattle.
"There was a lot of research done in the 60s and 70s in the United States but this really has just started to emerge in terms of the impacts on kangaroos."
http://www.abc.net.au/news/stories/2010/02/23/2827687.htm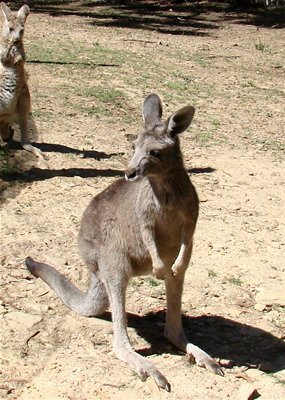 Photo: Fluoride from a nearby alumininum smelter is making Portland kangaroos ill. (ABC Local : Margaret Burin )
See Video below ...
Alex Jones Tv: Kangaroos Poisoned by Fluoride
See also Smelter fluoride deforms kangaroos